Happy World Emoji Day!
Emojis have evolved in a great way from the area of texting to marketing and advertising to having his own official day because how these modern hieroglyphics have changed the way we communicate. Emoji are near-ubiquity as they're present in every form of digital communication from email to Facebook to Whatsapp.
History Of Emojis
Emoji were first developed in the year 1999 by Shigetaka Kurita an engineer of a Japanese agency, NTT Docomo. He created the first 180 emojis which were used for messaging and other forms of communication by Japanese provider.
Later in the year 2010, emojis were allowed to be used outside Japan after being standardized by Unicode. Later in the year 2011, Apple added emoji keywords as a part of iOS 5 keyboard permanently which added them to the spotlight. Thousands of emojis were added in the following years, including sports equipment, flags, humans with varied skin colours, zodiac signs, etc.
As of March 2020, there are in total 3,304 emojis in the Unicode Standard.
Did You Know?
There's still no yelling emoji?
😂 and ❤️ were the most popular emojis in 2019
🍑 Only 7% of people use the peach emoji as a fruit
😂is the most used emoji on Twitter
Top 5 Popular Emojis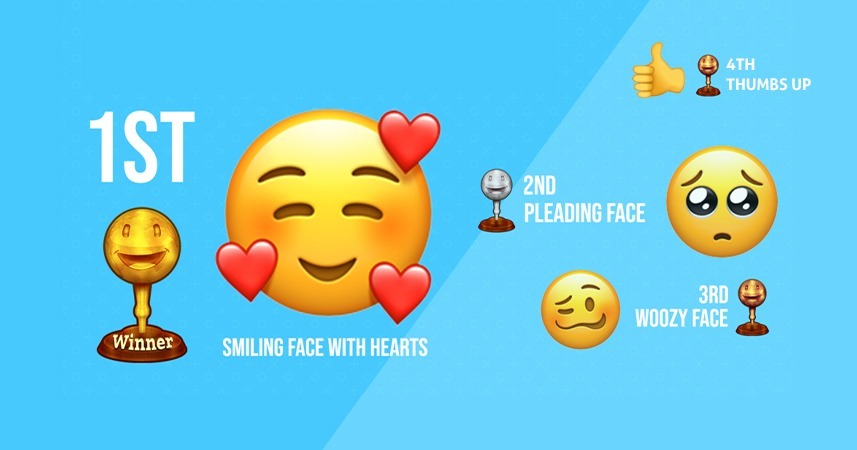 😂 – Its official name is "Face With Tears of Joy" but is misread as "Laughing Face Emoji" and is often used in humour or funny posts.
❤️ – "Red Heart" typically used to express affection love and comes in a variety of shapes and colour.
😭 – This emoji has two meanings to it – happy or negative, officially named as "Crying Face Emoji" and "Loudly Crying Face".
😍 – "Heart Eyes Emoji" mostly used to express you like what you seeing.
👍🏼 – "Thumbs-Up Emoji" is a universal sign of saying 'OK' and saying 'YES'
Emojis That Initiates Click-Through Rate
🐙 – Octopus Emoji
🐴 – Horse Face Emoji
👖 – Jeans Emoji
🍒 – Cherries Emoji
🚂 – Locomotive Emoji
Emojis That Boost Engagement
🙆 – Person Gesturing OK Emoji
🍒 – Cherries Emoji
🐠 – Tropical Fish Emoji
💃 – Woman Dancing Emoji
🌤 – Sun Behind Small Cloud Emoji
What Can Emoji Do In Your Marketing Vocabulary
Let's start by knowing some statistics about Emoji Marketing –
Statistics 📈 About Emoji Marketing –
Every day there are over 10 billion emojis sent
92% of the online population uses emojis in their communication
Emojis within email subject lines increase your open rates by 29% and click rate by 28%
In a survey, 51% of respondents said they're likely to engage with a brand's posts if it includes emojis.
Brands that include emojis in their tweets receive 25.4% more engagement than those who don't.
#1 – Emojis Humanize Digital Communication
Emoji breathes life into any conversation and have the tendency to humanize the meaning behind the words. Here is a small example to help you understand. See the following two format of the sentence.
FORMAT- 1
He: Coronavirus typically affect the respiratory tracts of birds and mammals, including humans
She: Really.!!
FORMAT-2
He: Coronavirus typically affect the respiratory tracts of birds and mammals, including humans😎
She: Really🙄
Read it carefully, and you will understand how emojis changed the tone of the conversation. This is the power of emojis. Emoji are used to convey the right mood and help in changing the discourse of the conversation.
#2 – Emoji In Push Notifications
There is no denial of the fact that most of the media consumptions takes place of mobile applications. So ignoring mobile marketing is not going to help, so how can we forget about push notifications?
Push notifications are kind of a prized possession for marketers because it gives direct access to the users home screen. Usage of emojis in the push notifications initiates click-through-rate by 85% and influence buying-decisions of customers.
#3 – Emojis In Facebook/Twitter Updates To Increase 3times More Engagement
According to a study conducted, Facebook post with emojis tends to get 57% higher like rate, 33% higher comment rate & 33% higher share rate and promoted tweets with emojis gets 3 times more engagement than those without emojis. Isn't this amazing😲?
However, you cannot bombard emojis in your posts just for the sake of marketing. Emojis breaks the language barrier however adding them should have a purpose for boosting brand engagement by adding this in your social media marketing strategy. They are the charm in your in increasing social engagement of your brand.
Learn Emoji Marketing With These Lovely Campaigns
Dominos 
One of the best examples of effective use of emoji – Dominos took a huge toll in the emoji marketing game, by allowing its customers to order a pizza by sending them the 🍕 emoji. They made the purchase process easier by incorporating pizza emoji system.
Mcdonalds, Google, Apple – Tripping Debate Campaigns
The debate started on how Google's burger emoji is placing the cheese underneath the burger, while Apple puts it on top. Where KFC India added its flavour and the debate was over by Mcdonalds India with the message – 'the belief of cheese being over or under the patty – no matter it will be delicious as long it's from Mcdonalds.'
WWF – World Wide Fund for Nature
The campaign was dedicated to getting people to sign up to WWF donate 10 cents each time they tweet the emojis. The campaign 17 emojis of animals that are endangered species. They received around 559,000 mentions and more than 59,000 signups in the first three months since it was released.
Key Takeaways for Your Emoji Marketing Campaigns
We will help you balance your text with the right message that will make your audience react positively and hence drive the desired engagement
Here is what you can do to get emoji marketing on the right path with ROLSON –
Identify the right emojis for the right social platforms
Use emojis in moderation to not dilute the message
Identify the emoji that best suits your brand voice and image
Understand the meaning of an emoji to avoid possible misinterpretations before using it
We use these tips to humanize message for your emoji marketing campaigns.